New School is a transitional style of tattooing, of both Old School and Neo-Traditional styles. This relatively new style has introduced freedom and a new outlet for creative expression in response to the Old School style with its "boring stereotypes".
Table of Contents (clickable)
New School Tattoo Ideas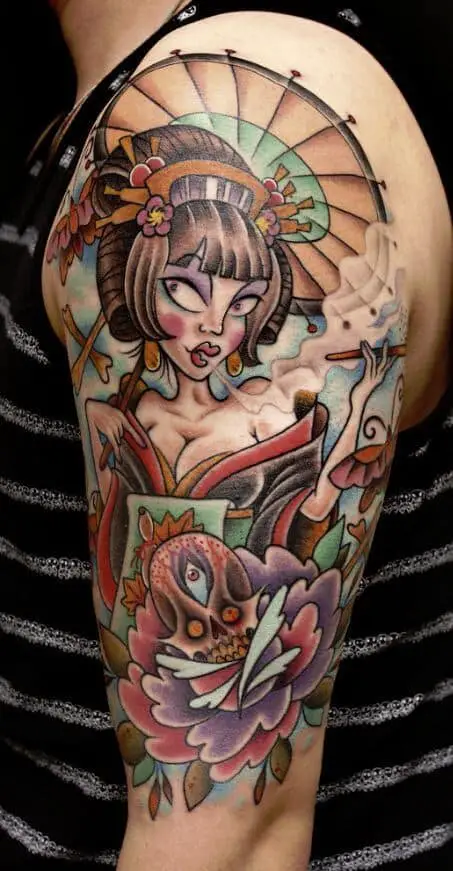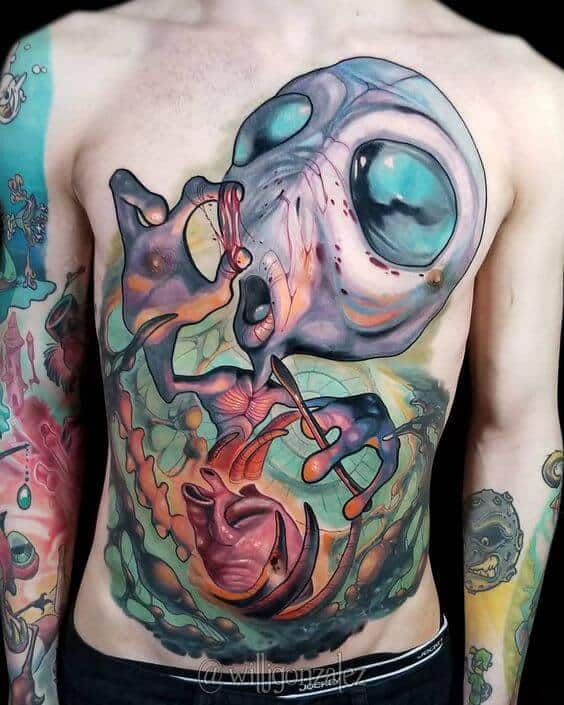 New School Tattoo Features
New School is characterized by a wide variety of subjects and elements. It allows for flights of fancy. It is worth noting that often drawings are characterized by lots of different characters such as cartoon images and caricatures.
Popular images also include existing and non-existent animals, superheroes, comic book or cartoon characters, portraits, hearts, elements of fire, flowers, and birds.
Bright and saturated pigments (sometimes even acidic)
Clear contours
Voluminous image – easily identified from afar
A complete departure from realism
Uses voids, which can occupy the same area of the drawing as the painted areas
Abstract images
A variety of flashy subjects
Caricature
Are able to bring a smile to the viewer (as they are often funny)
New School Tattoo History
As mentioned earlier, new school type of tattooing was a response to everything "boring and old". This style arose in the 1980s when the rave movement was gaining popularity.
The old-style became dull and monotonous in contrast to the discos, electronic music, and bright clothes becoming especially popular at that time. So by introducing volume, a variety of brought colors, and wild subjects to the old-school style, new school tattoos became a hip and popular space for creativity and self-expression.
The creator of this tattooing style is considered to be popular designer Don Ed Hardy. After the widespread popularity of the new school style, Hardy patented the Ed Hardy brand in 2004 and released a line of clothing with images inspired by said style.